I decided to try something new. I made mini bagel pizzas for dinner tonight.
They are only 125-130 calories each. Depending on whether you want any
toppings, it could be even less!
Mini Bagel Halves- 50 calories
1 Tbsp. Hunts Tomato Paste- 15 calories
1/8 cup Shredded Mozzarella Cheese- 40 calories
Pepperoni Slices- 10 calories each
Mushrooms- less than 1 calorie
350 degrees for 15 minutes.
Step 1- Slice the Bagels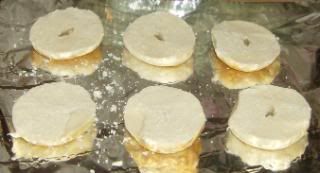 Step 2- Add Tomato Paste
Step 3- Add Cheese
Step 4- Add Desired Toppings
Step 5- Bake for 15 minutes on 350 degrees
and voila! Mini Pizzas!
They were super yummy. Next time I may make some to freeze for taking to work with me.